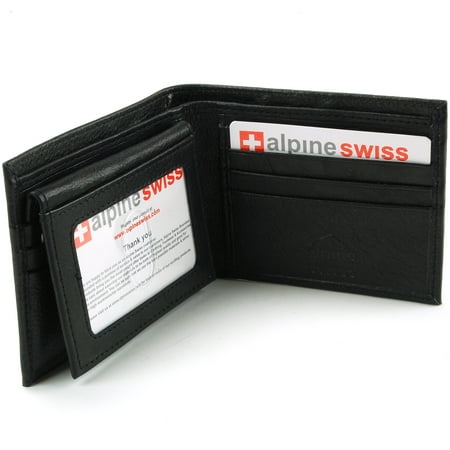 Men's Leather WalletBy Alpine SwissMSRP: $45.00This wallet's rugged good looks makes it one of our most popular styles.Product Features:
Measures 4.37″ x 3.37″ x 0.5″
Genuine Leather
2 ID Windows
7Credit Card Slots
2Additional Pockets
Full Size Bill Section
Removable Passcase Flap with IDWindow
Quality Workmanship with 8 stitches per inch
Alpine Swiss donates 250 meals every day to hungry children in the U.S. and around the world through our partnership with Childrens Hunger Fund. These meals are hand delivered in a Food Pack, which will contain enough food to feed a family of 4-5 for a week to the homes of the needy by trained volunteers in their community, establishing relationships that foster genuine care. Your purchase fuels this effort! Thank you!
Reviews
This item helped me protected my credit card and money
Very good quality at half the normal price. Highly recommend.
As advertised, average size cards fit tight
Great wallet for the price. I've paid double the price for similar wallets.
Someone else's first expression of the wallet guesstimated i paid $40. So right off the bat, I thought I got myself a pretty good deal. To me the built quality seems great but because I paid about $10 bucks I'm doubtful it's real leather. The wallet is stamped "genuine leather" but only time will tell if it really is. So far I'm loving it. It does appear to have the RFID built in. My Android phone with NFC chimes when it touches my wallet. The Alpine Swiss had done a very good job at making such quality products for such low prices. Now I just hope it actually last a couple years.