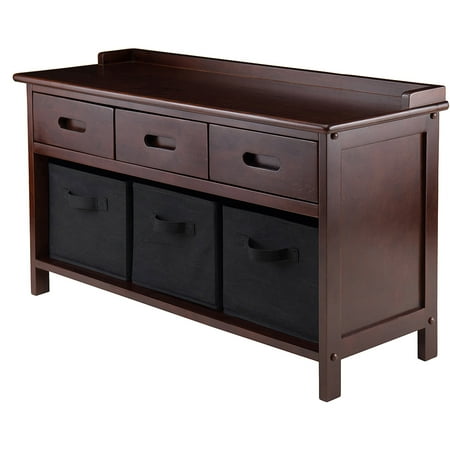 The Adriana Walnut Storage Bench with 3 Black Baskets is an excellent addition to any room in your house. This versatile bench can be used for seating as well as storage. It features 3 drawers with notch out handles, easy-to-access storage under the bench seat and 3 fabric baskets that can be folded. This bench will be an asset to your home, whether it's used in the playroom, the bedroom, the entryway or the office. This piece of furniture is constructed from solid and composite wood in a walnut finish. These baskets are ideal for organizing your belongings. This winsome storage bench can be used to store a variety of items and will add a nice decorative touch to an area with its dark and rich finish.
Adriana Storage Bench with 3 Black Baskets, Walnut:
Versatile storage bench
3 drawers
3 foldable fabric baskets
Made from solid and composite wood
Walnut finish
Solid wood storage bench requires assembly
Dimensions: 37.9″W x 14.17″D X 22″H
Each basket measures: 10.97″W x 10.06″D x 9″H
60-day replacement parts
Model# 94602
Directions
:
Fabric Care Instructions: Wipe Clean with Damp Cloth
reviews
We received our bench yesterday & put it together this morning. I am so happy with this product. It was pretty easy to put together. What would have made it even easier is if each piece had a small sticker with a letter on it to identify each piece. So far, I am only using two of the baskets. The whole bottom area is open so you can choose to use the accompanying baskets or not. The drawers slide very easily. For the money, you can't beat this product at this price. I am very happy with this purchase.

The bench was easy to put together, and looks great when finished! It was packaged extremely well! Every piece was wrapped individually so none of the pieces could get scratched. There was even styrofoam around the outer edge of the box to help protect the pieces.
We bought this over a year ago for our renovated bathroom since space is very limited and we never had storage for our towels in the bathroom. I don't use the baskets but rather use that area to store bath towels. The drawers hold face cloths, soaps, and whatever. And the seat comes in handy for sitting. We absolutely love it. It is a well made piece of furniture.
Looks Great! Just what I needed. I looked for almost 2 years, settle for a plain bench then finally found this. It's a little shorter than most, which is what I needed for my entry. Love the drawers and bottom shelf – everything off the floor! Quite easy to put together (I did have one piece backwards but caught it before I finished. 1/2 and done!
The bench went together really quickly and looks great in the entry way.