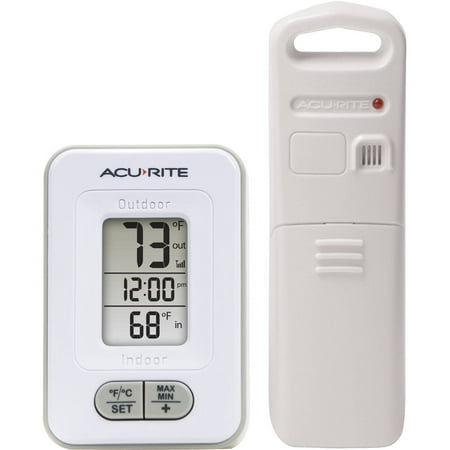 Weather the day with confidence with your own accurate and up-to-date information, right from your own backyard by using the AcuRite Wireless Digital Thermometer. It features precise and reliable temperature readings. This wireless thermometer has a bold, easy to read LCD screen that displays the current indoor or outdoor temperature with daily high and low information. It also comes with a clock that displays the current time in 12-hour or 24-hour formats. The AcuRite Wireless Digital Thermometer stands upright for tabletop use, and it is also wall-mountable for convenient and reliable placement. It is ideal for use in your garden, greenhouse, garage, wine room and more. Stay on top of the latest conditions in a number of different settings by using the AcuRite digital thermometer.
AcuRite Wireless Digital Thermometer:
Indoor/outdoor temperature (degrees Fahrenheit or Celsius)
Clock (12-hour or 24-hour)
Daily high/low temperature
Tabletop or wall-mountable design
Indicator for wireless sensor signal strength
Wireless technology transmits data through walls and from a distance
Integrated hanger for easy mounting
Durable, weather-resistant design
Wireless signal LED indicator
Strong signal penetration (enhanced 433 MHz)
reviews
A simple thermometer that is very precise and low cost
Very well made and extremely accurate. I've bought four of them so far for different rooms. They all work off the same transmitter so I only had to use one of the included transmitters for all four.
Using to monitor my refrigerator temps,since this unit is useful to -40F.Can monitor the temp in the den and getting full bars,even when sending unit is inside refrigerator.Manufacturer mentions that this unit transmits twice as far as competitive units.
This unit works well, but the display could be a little larger. If I was being picky, I would also like the temp to read to the tenth of a degree. All in all, for the price, you get your money's worth.
Would get5 stars, except displayed numerals for indoor temperature are too small.
Easy to set up and view. The larger number is the remote sensor ( we use it to monitor the basement temperature )
So far so good. Love the price and works fine. Just a bit smaller than I expected even though I had the dimensions. Outdoor number is large but indoor number is smaller. All in all a great deal.
The indoor temp while in an air conditioned room said it was 81 degrees. The outdoor temp said 88 degrees. The outdoor sensor was literally 1 inch away from it for 30 minutes, neither budged and both should have been the same with about a 75 degree reading. Took the indoor sensor display into a non-air conditioned room that was about 85 degrees and the outdoor I put in a colder room (70 degrees) directly on top of the air conditioner. The indoor went up a single degree while the outdoor still didn't change. May as well have bought a roll of toilet paper, would have given similar results.