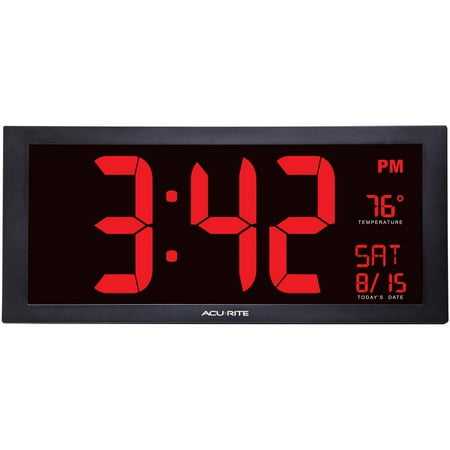 Get accurate and up to date time and temperature information from this AcuRite 18″ Large Digit Calendar Clock with Indoor Temperature. Its sturdy rectangular body comes with keyholes that allow it to be hung and mounted to walls or peg boards with ease. The solid and flat shape of this LED calendar clock also make it an ideal companion to your bedroom's nightstand or dresser. Enjoy the clear and easy to read display, complete with large LED digits and a red tint that is easy on your eyes, even in the dark. This office digital clock displays the time, date and the current temperature of the room it is in. It features a 9′ long power cable that allows the unit to reach many different outlets. It also has built-in storage for excess cable to maximize free space. This clock can be relied on to remember the time, even when the power goes out. Onboard battery backups automatically activate in the event of power loss to ensure continuous operation and accurate time reading. Stay informed through almost anything with this AcuRite 18″ Large Digit Calendar Clock with Indoor Temperature.
AcuRite 18″ Large Digit Calendar Clock with Indoor Temperature:
Extra-large LED screen
Oversized 5.5″ tall digits allow for easy-viewing from across the office, classroom, or living room
Indoor temperature (degrees Fahrenheit and Celsius)
Today's date and day of week
Keyholes for wall-mounting and fold-out stand for tabletop placement
This LED calendar clock is powered by 9′ power cord
Features integrated cord storage
Remembers time in event of power outage with optional backup batteries
reviews
Larger than I expected. I have no problem seeing the time from across the shop area. The smaller digits of temperature and date, you have to be a bit closer, of course, but they are all clean and crisp. Very happy with the purchase.
This clock can be viewed clear and sharp from 50′ away. The indoor temperature and daily date is a great feature also. Love it……..
This AcuRite 18-inch Large Digital Clock is perfect for any home, office or classroom. It's also an ideal calendar clock for seniors or dementia clock. The day clock's extra-large LED screen features ...
AcuRite Digital 18 Wall Clock