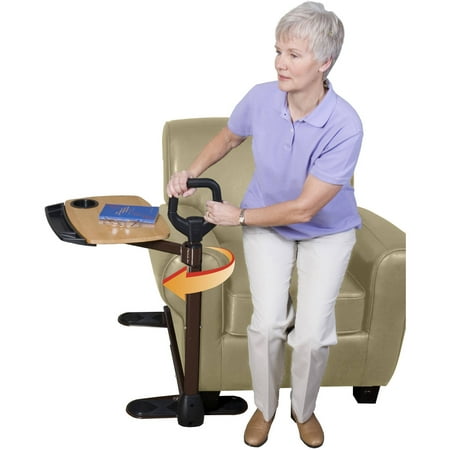 The Able Tray by Able Life is a couch-side handle that makes it easy to stand from your favorite couch or chair. It comes with a convenient multi-use swivel tray so you can eat, surf the web or simply keep handy items close by. And like all of our products, it blends in with your living-room like another piece of furniture so you can maintain the comforting feeling of your home. The base adjusts in depth from 20 to 36 inches to fit a wide range of couches and chairs. The handle height can be adjusted from 34 to 40 inches. The handle will support up to 250 pounds, the tray supports 30 pounds.
Able Life Able Tray:
Ergonomic safety handle provides balance and support for sitting or standing motion
Swivel tray multi-use tray pivots out of the way when not in use
Super grip rubber pads ensure stability and protect your floor from damage
Quick and easy assembly
reviews
Purchased this item for my mom whom has issues getting up and also needs a table with her lift chair. This item works out great for her and is built very sturdy. Great product.
This product was very easy to assemble. It is very sturdy. My 97-year-old father is able to get in and out of his chair with very little effort. The tray table is wonderful and can be adjusted to any height. I wish I had known of this product earlier on.
A very sturdy and well built device. It is not designed to be your only lift assistance, you do have to be able to do most of the lifting yourself but it does help if you need something to help you keep your balance when standing. Great table too. it rotates 360 degrees to place the table just where it is needed. Thank You for this wonderful product. I use it to hold a large laptop and it is great.
The Able Tray Stander is very useful in giving me a better place to push up to stand from my recliner. The tray is nice for using for snacks and working on my iPad.
We ordered this tray and handle combination to help after shoulder surgery. We liked that it can be used on either side of the recliner chair. The laptop can fit easily on the tray and moved out of the way with a simple touch. It is everything we were looking for.
I just received this item today as I had purchased it for my husband. Easy to put together, very well built! I'm not disappointed at all and am very glad I bought it & so is he!
my parents love their new trays I bought them for Christmas
I would recommend to a friend with reservation / caution about stability. 1. The base does not lock into a position short enough to go under the front and rear chair feet. 2. The base is not stable at all on carpet. It wobbles side to side, front to back and slides around and out from under chair. 3. The tray is accommodating for my needs.