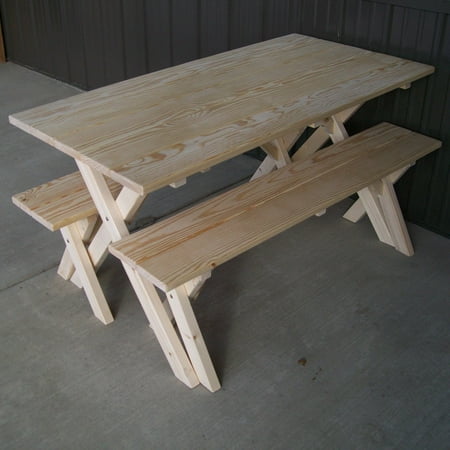 Break out the checkered napkins and hot dogs – this A & L Furniture Pine Cross Legged 55 in. Picnic Table with Benches calls for a classic backyard picnic. Built with solid handcrafted pine, this trim set includes a slatted rectangular table and two coordinating slim, slatted benches. Each piece has traditional cross-legged supports for sure steadiness. The leg design also allows the benches to slip neatly under the table when they're not in use. Choose from several finishes. Table dimensions: 55L x 27W x 30H inches, Bench dimensions: 55L x 11W x 17H inches. Assembly required.
reviews
We like it! It has a touch of ruggedness that works for us.
I use it as my dining table. I like overall furniture that is non toxic with no chemicals. I like the natural approach when it comes to the majority of the things I buy.
This table is just what I wanted. The quality is good. It came quickly. I stained it myself and it looks great.
I bought this for my mom as she had been looking for a classic picnic table with detached benches for a long time. She lives in a senior community and climbing in/out of an attached table is a challenge for her and some of her neighbors/visitors. My sisters that live nearby tried to assemble this and found it to be quite a challenge. They finally got one bench and not the other. They were giving up and called me about return options, but my mom's friend is a handy type and he was able to come over and get it together. She is very happy with it now that its assembled.
I am just tickled with this set. Read the reviews before ordering, so I was a little apprehensive. It arrived quickly, all of the parts and pieces were in one box. Absolutely NO damaged pieces. This is clearly grade A lumber. (Pine) Keep in mind that pine absorbs stain unevenly, with that in mind I chose to paint my set. I wouldn't hesitate to order this or any other product from Hayneedle and A & L Furniture. < 3
I've put together many pieces . This one very easy. Simple in fact . For pine the top was in great condition . Sturdy . Painted it my self and enjoy the table . I would buy one again if had a choice.
Great product, moderately easy to put together …… predrilled holes needed better alignment. We had to use our drill which not everyone will own.
The table is easy to put together…the benches…nightmare. The holes don't align and they didn't give me enough of the right wood screws/bolts. They stained it and closed the legs so I had to hammer them open. Don't waste your money on this. You get what you pay for.