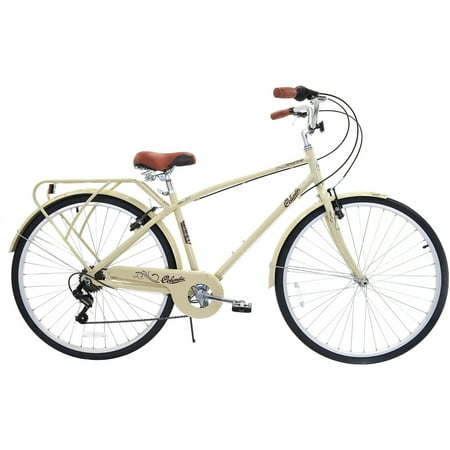 Whether traveling city streets or in the countryside you'll enjoy the ride with this Columbia Streamliner7 700C Men's Bike. Impressive from any angle, it has a lightweight yet rugged aluminum frame in a traditional style. This 26″ men's bike comes with a Shimano 7-speed shifter and alloy V-brakes. This allows you to climb with ease and coast down from steep hills and inclines with confidence. It also features an embossed saddle and alloy pedals for sustained comfort and hand grips that let you achieve a secure hold. The matching fenders further complement its good looks.
700C Columbia Streamliner7 Men's Bike:
26″ aluminum frame
700c aluminum bike
Shimano 7 speed shifter
Alloy V-brakes
Embossed saddles and hand grips
Alloy pedals
Columbia Streamliner bike
Color: beige
reviews
When I bought this bike and it arrived I was pleasantly surprised. It was very well packaged, easy to assemble, a breeze to set up, calibrate the gears, align the brakes. My surprise continued when I took it for a spin. It was a light weight bike with a smooth and quiet ride. The gear ratio is perfect for cruising around town. What a great bike! Perfect fit for my 6'6" height, smooth ride, quiet and smooth gear shifting, and comfortable. I have recommended it to two of my friends. This bike has raised my pleasure in riding.
The best thing I like about this bike is the looks. It looks retro and old school which quite cool. At the same time it has some nice features such as the 7 gear and comfortable saddle. The gearing is OK and you can gear up and down smoothly. The chain sometimes touches the chassis on the 1st gear and makes some noise but I think it can be adjusted with the proper equipment. The breaks which on the front and back wheels are quite good and dependable. The saddle is very very comfortable. It's not like those sport bike saddles that hurt your rear after an hour ride 🙂 You can have a comfortable ride for hours. You can carry some stuff at the back however I would like to have something to fix newspapers or shopping bags at the back. Maybe a rubber band? There are fenders on both wheels so you won't need to visit the laundry room every time you ride your bike. There are four reflectors on the front, rear, wheel and pedals to highlight in the night. The packaging is good, quite heavy though. Nonetheless, I would prefer that all of the required items were included in the packaging, I had to buy some stuff from the warehouse shop. All in all, I think it is a really nice looking and quality bike for your bucks. You won't regret if you are in for retro looks and comfortable ride. Cheers!
I'm only an occasional bike rider but this is a good looking bike and works fine for me. It's easy to ride and everything seems to work. I've only had it a little while but it seems sturdy and I think it will be durable as long as I need it. I'd probably give a 4 or 5 except that: -The assembly was easy enough but not because of the instructions which are apparently written for EVERY bike that Columbia makes. This makes them terribly confusing (if you have bike A, do this; if you have bike B, do this; if you have bike C…on and on). I mostly had to just look at it and use logic. -Just about EVERY surface was covered with plastic and/or paper held very tightly in place with a ton of tape. It took forever to remove it all. I understand the reason is to keep it from scratching but it's so tightly wrapped that I can see that some folks would use a knife or scissors to remove it and would scratch it that way. Wrapping in a bag or something for shipping would probably save them labor money and the buyer much time and frustration.
There is just a kind of sloppiness about its manufacture – welds not aligned quite right, packing materials sandwiched between pieces screwed together, things assembled crooked, etc.. Never got to ride the bike because it came damaged. Rear wheel is badly warped. Damage to box suggests that it happened in transit, but I don't know for sure. One fender was also squished. Don't be fooled by the fact that the bike company, Columbia, is a US company. The bike itself is made in China, according to manufacturers stickers on the parts.
700C Columbia Streamliner7 Men's Bike:26" aluminum frame700c aluminum bikeShimano 7 speed shifterAlloy V-brakesEmbossed saddles and hand gripsAlloy pedalsColumbia Streamliner bikeColor: beige