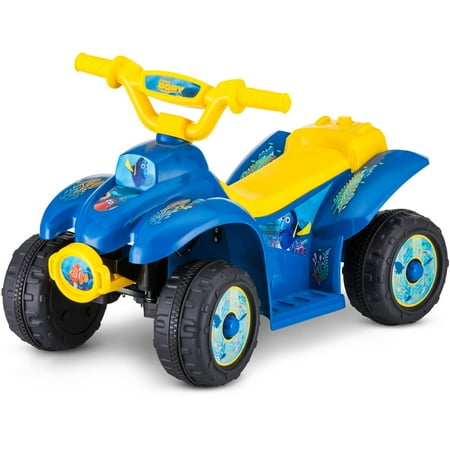 Oh no! Dory is lost, just like Nemo we have to go and be sure to find Dory and help her get back home. This adorable Disney Finding Dory six-volt toddler Quad will have them scouting the yard, looking for all their fish friends. It will be a dream for them to drive with the easy push-button acceleration and Kid Trax rubber traction strip tires that hold firm on slick and grassy surfaces. It comes with a six-volt rechargeable battery and charger and travels at a safe 1.5 miles per hour. All aboard to find Dory with some backyard fun.
6V Disney Finding Dory Toddler Quad:
Easy push-button acceleration
Cute Disney Finding Dory graphics
Kid Trax Rubber Strip Traction Tires for secure driving on slick or damp surfaces
Travels at 1.5 mph
Includes 6 volt battery and charger
One rider, max weight 40 lbs
Age range: 18 months and up
reviews
I bought this for my nephew age 2. It took him 30 minutes to master buttons….best toy ever for a 2 year old….also putting in small ditch gives them the feel of hill climbing…..he would just laugh and laugh in and out of the small ditch….
2 year old granddaughter received this at her bday party. Thank goodness it was the last one opened bc she forgot about all the others when she saw this. Started riding immediately and another child said to me I'm next ok. My daughter said that the battery has not run down and she rides it everyday. Good purchase. My granddaughter is very small for her age.