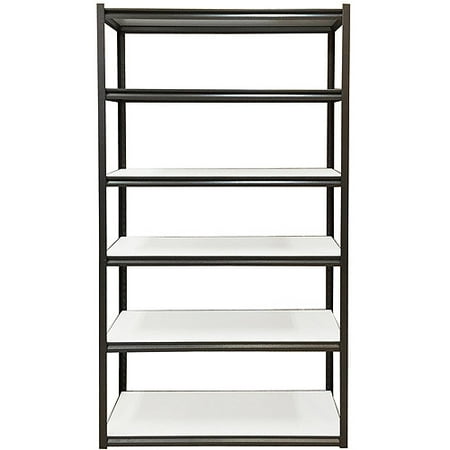 The 6-Shelf 48″W x 84″H x 18″D Steel Storage Shelving Unit, Silver Vein is a durable storage option for your home or office. It features a strong steel construction that will last for your storage needs. The heavy-duty Z-beam construction provides a strength and rigidity to them. This steel shelving unit offers support for up to 3,000 lbs. This heavy-duty storage solution can be used in your garage, pantry or office storage room. The smooth post design conceals the assembly for a finished look. This stylish unit is covered in a silver vein finish to match many styles of decor. The six-shelf shelving unit allows each of the shelves to adjust every 1-1/2″ to help you create a customized space with ease. Whether you are storing books, food or tools on it, you will be pleased with the strength and look of these shelves.
6-Shelf 48″W x 84″H x 18″D Steel Storage Shelving Unit, Silver Vein:
Heavy-duty Z-beam construction for strength and rigidity
Steel shelving unit features a smooth post design conceals assembly
Assembles in minutes, no nuts and bolts required
Shelves adjust in 1-1/2″ increments
Size: 18″ x 48″ x 84″
reviews
Bought for a heated & cooled storage room in our new house. Much better looking than the former silver units. Nice surprise with the silver-grey color. The vertical corners are solid with the slots showing only from the view-point of the containers on the shelves. Bought six and have another six on order. It helps to have a helper to hold while one person uses a rubber mallet to hammer parts in place. I used a short piece of a 2″×4″ to hammer in order to avoid denting the frame. The internal angles that hold the four vertical sides (top 3-ft. section and lower 4 ft. section) together could have been better finished. The bottom part worked well and it was a tight fit with 1/2 sticking up for the top 3 ft. to be hammered down on. Problem was the junction piece was hammered down and did not stick up as much as the part in the bottom. We solved this by filing the top half a LITTLE so that it would slide in easier but still tight. Several light hammer strikes (instead of a few hard strikes) helps to keep the junction piece from going down too far. Two of the six units came with "L" shaped pieces of plastic to go on the top an bottom of the four corners. They were useless… did not fit properly and either broke or came loose. Manufacturer needs to correct this problem. These two negatives are not enough to lower my grading from an overall "5." Our units are side-by-side and in order to keep the front vertical pieces in line we used a small 1/2″ sheet metal screw in a hole we drilled through one unit into the next (hardly shows because drilled hole through an existing slot hole.) As a safety issue, we drilled and installed toggle bolts into the wall through the back vertical corners.
Yes, you need a rubber mallet to put these shelves together. All the parts were securely packed when they arrived, yet the plastic pieces that go on the top and bottom of the corners were missing. ( However, that was not important to me.) The metal has a nice texture applied to it and the shelves were a light grey. Some shelves had a small chip in the laminate surface, but again, cosmetics aren't important to me. A metal ridge all the way around the edges where the shelves rest gives them no place to sag. I've loaded books on it and it holds up well. I'm hoping that they will come apart as easily as they went together in case I need to move them – they are too large for me to move when assembled. This shelf is so much better than those plastic things that sag and look awful. I'd definitely buy another.
I bought one of these several years ago and wanted another one to match. Unfortunately they changed to design of the post and the color but it functions the same as the one I already had and is the same size. This unit now has splices for the 4′ and 3′ corner post to join, so you can put the middle shelf where you want. On my old one the middle shelf had to be at the point where the post meet to hold them together. When I opened the box, the four 3′ upper corner post were missing. I called the company(Edsal) and left a message. Ana from Edsal called me back the next day and said she would ship out the parts right away. I got them about a week later and they turned out to the wrong kind. They were similar to my old shelf and will not work with the new one. Called again and Ana apologized and said she would send out the correct ones. 8 days later, no post. Emailed Ana and she said UPS told her I changed delivery to be picked up at UPS, so she did send them but they were sitting at UPS. Not sure why I would do that, I don't even know where it is. She contacted UPS and they finally delivered them. So now a month later my shelving unit is put together. I would give the shelves a 5 star for sturdiness and assembly and 1 star for package contents missing.
We bought 4 of these Muscle rack shelving units …. We love them. It has been so easy to get organized! My wife and I assembled these with ease. I'm trying to decide where I can fit a few more!
I spent hours trying to assemble what should have been a simple unit assembly. When you get one bracket in place, it loosens another side. It may loosen one or more brackets above or below it. Throughout assembly I was having to reattach the brackets I 'had' in place. They sometimes came completely out of place. The way the upper shelving connects to the lower is another nightmare. I'm very concerned the shelving is going to give way. I will never buy another product of this company!!!!!!!!!