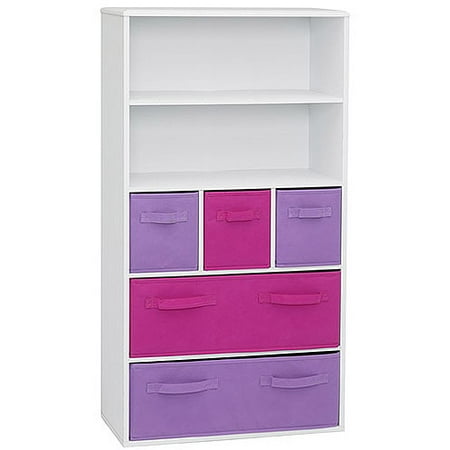 This 4D Concepts Bookcase is a versatile piece that's ideal for a child's room or school setting. It lets you neatly store and organize different items. This unit is made for holding books, school supplies, magazines, small toys and much more. It comes in multiple finishes so you can find what fits in with your decor. This bookcase with shelves has convenient storage spaces with five removable, foldable canvas basket inserts. The bins come in two different sizes and in contrasting shades for a stylish look. This kids' bookcase is available in multiple finishes and is also made from durable materials. It even features a water-resistant surface on the shelves. This unit comes ready to assemble and makes organization simple while enhancing the look of any space.
4D Concepts Bookcase:
Open shelving plus five removable, foldable canvas basket inserts
Durable water-resistant surface on these bookshelves
Ready-to-assemble cam-and-dowel construction
3 small baskets (1 pink, 2 purple): 11″L x 7-1/2″W x 8-9/16″H
2 large baskets (1 pink, 1 purple): 11-1/16″L x 23-1/2″W x 8-5/8″H
Wonderful for organization and storage of books and toys
Ideal for a child's bedroom or playroom and classrooms
Kids' bookcase is available in multiple finishes
reviews
love the space and storage it provides. worked perfectly in my daughters bedroom. Easy to put together.
This is a sturdy organizer. It's perfect for my sons costumes and weapons. It's a little smaller than expected, but overall nice product (especially for the price).
Great kids room addition to hide that ever piling clutter! I was looking for a 4-5 shelf unit that wasn't too tall. This was perfect. Bins are roomy. Only downsides are that the shelves are not adjustable (if you have large books) and the bins are not standard size so you get the colors it comes in (but obviously you don't have to use the bins).
It's a small shelf, but it fits perfectly in my daughters room. It works great for our toy storage.
Bought for my twin daughters bedroom and it works perfectly. It is a heavier wood, better than the particle board shelves you find.
Decided to write a review because I came online to see if I can find the product again, my daughter has had this in her room from about age 5/6 and is now 10 never had any problems with it as long as you put it together like it should be and everything tight its awesome. Going to purchase another for my baby due in summer 🙂
Very nice and easy to assemble. My 9-year old granddaughter did most of the work, with only a little supervision from me. She is using it in her bedroom and is very happy with it.
I am beyond upset right now. I was really excited to receive this item as I am redoing my daughters bed room. I even paid for express shipping. I followed the instructions (WHICH BY THE WAY ARE THE WORST INSTRUCTIONS EVER), I got half way through the project and the whole thing BROKE! $100 WASTED. I DEMAND my money back or a BRAND NEW ONE. Save your self aggravation and do not buy!