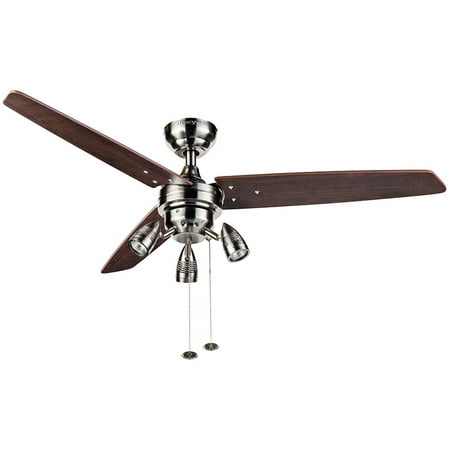 Stay cool with this 48″ Honeywell Wicker Park Ceiling Fan. It features curved reversible blades that efficiently move air throughout the room. The halogen spot lights produce impressive output and are mounted on adjustable arms so you can direct them to the spaces you want to illuminate. The Honeywell ceiling fan also has a three-speed reversible motor, and the sleek and modern design is quiet and efficient. This model has reversible light oak and dark chestnut blades with a contrasting satin nickel finish. It comes complete with three GU-10 50W bulbs.
48″ Honeywell Wicker Park Ceiling Fan, Satin Nickel:
Reversible light oak and dark chestnut blades
3 speed reversible motor
Includes three GU-10 50W bulbs
reviews
Great inexpensive option for when you need to update outdated fans without spending a fortune! We bought two to replace the fans in our kitchen/dining. It took me about an hour and a half to remove an old fan and install this one, while also taking care of two young kids. It is spot-lighty, so I wouldn't recommend it by itself for a kitchen, but we also have cabinet lighting, so it wasn't a big issue for us. I will say the most frustrating part is fitting the light kit on. The wires connect really easily, but there are a ton of wires in the housing without any room left for the base of the fan, so it's hard to smoosh everything in and attach the screws to hold it.
Matched up nice with existing wiring and you cant beat the price.
great value and great price. i installed it in my garage and it works great.I may get another one so I'll have a matching set.
I totally love this fan. My husband had it installed and going with in 15 minutes. You would think that it would look cheap because of the price. It looks very amazing and cools great!
Very pleased with this fan. Effectively cools a bedroom and is easy to install
Beautiful Fan!!! Easy to install and assemble!! One Big Problem!! Tape that was put on fan by manufacturer tore off large piece of the cheap paper covering on the blades. Ruining the look!! Had to turn over blade. Pretty mad about that but Fan runs great has good airflow and looks amazing!!
high quality, good fan lighting style looks neat but does not do a good job of lighting the room. (11 X 11 bedroom).
Very easy to install (less than an hour), looks absolutely stunning! Very quiet and blows air perfectly. Absolutely love the look and the lighting! Already purchased two and just placed another order for third bedroom! So happy with this item!
Was a little leary about buying this fan without seeing it first and because it only had three blades. BUT I am in love with this fan. It gives off so much light and the adjustsble lights were a plus. And 3 blades is all it needs!
I would not recommend this product to anyone. First it doesn't put off that much air. Second you will have dark shadows in your room because the light are like a flash light and don't shine in the right angles. Third the lights get really hot. I would not recommend anyone to buy this product because it is very poor quality.
48" Honeywell Wicker Park Ceiling Fan, Satin Nickel: Reversible light oak and dark chestnut blades3 speed reversible motorIncludes three GU-10 50W bulbs
48" Honeywell Salermo Ceiling Fan with Remote, Satin Nickel: Cased white bowl lightRemote enabled (control included) Reversible walnut and maple blades3 speed reversible motorTri-Mount mounting system...