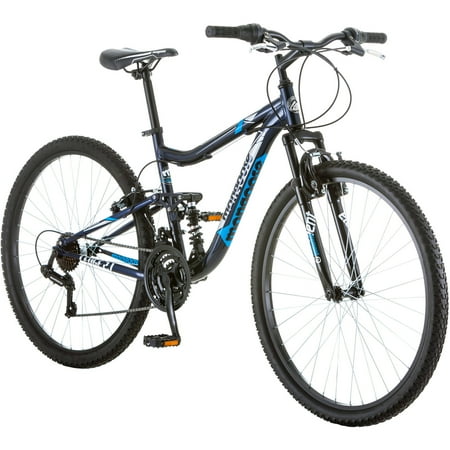 Conquer the path or the trail, ride down mountains or molehills with this Mongoose Men's Mountain Bike. It comes complete with aluminum full suspension frame and twist shifters to help you smoothly through 21 speeds. A Schimano rear derailleur and a three-piece crank, alloy rims and linear pull brakes are also included. The aluminum mountain bike also features front and rear liner pull brakes. The multi-use bike provides your muscles with a boost and it strengthens your thighs, hips and rear end. It can also help energize you for other exercises you plan to do. Enjoy the fun, adventure and health benefits that two wheels can bring with this Mongoose Men's Mountain Bike. There are plenty of ways to enjoy a warm spring afternoon, but riding a bike is one of the most active ways to spend your leisure time.
27.5″ Mongoose Ledge 2.1 Men's Bike, Deep Navy:
21-speed twist shifters with Shimano rear derailleur
Aluminum full-suspension mountain frame with front suspension fork
Mongoose men's bike features front and rear linear pull brakes
Alloy wheels and 3-piece crank
Assembled dimensions: 68″L x 25″W x 41″H
reviews
It's easy to ride and easy gears
The bike is good…. My foot was touching the front tire but I adjusted it and its ok now .
Not a bad bike but it has terrible components to it, the gear shifters suck, front brakes aren't very sturdy and the rear derailleur is made of cheap metal. I was into my ride for the first time for about 10 seconds before I switched into 7th gear and the chain came off and bent every metal part on the derailleur. I had to straighten everything out which was pretty easy because it's so easy to bend and tried to put it back on but that requires a lot of patience. I should of adjusted then derailleur before I took it on the road but the fact that it got destroyed so easily makes it a very cheap part. I recommend getting new derailleurs, shifters and brakes to make it reliable! Then you top out at about $200 and you get a very decent bike!
Well designed, great looking, easy to follow assembly instructions, well protected packaging. Needed to make minor adjustments to front brakes and shifting of the gears. Only problem was the front wheel was not true, causing the front brakes to grab on and off. Pacific Cycle customer service is sending a new wheel as a replacement.
Great bike for the price. Only reason I gave only 4 stars is that the rear suspension is very stiff (almost to the point of not being worth having). Also, the rear derailer is very touchy. it switches gears by itself or if you lightly tap it, but I think that is a function of needing adjustment. One suggestion for Walmart: if you could have a radio button on the webpage if you want assembly it would help. The store I had this delivered to only has a guy once a week. I missed him, but since it sat there a couple of days before I picked it up a note to the store to assemble would have saved me the hassle of doing it myself. Not a difficult job, just would have been nice to have it all done when I picked it up.
This is by far the worst bike I have owned. I thought that the reviews were decent and so I purchased it. After only a few weeks, the handlebars started literally falling off. Now every time I use this bike I have to bring an allen wrench to tighten them. If this was the only issue it would be okay, but the gears do not shift correctly and will frequently get stuck. One time the chain actually ended up falling off the gears and was damaged. Both the brakes have become so badly shifted that they no longer work. I have never been more angry with a purchase, and this cheaply made garbage bike has had every issue a bike can have. Please save your money and buy something else, this bike will give you more trouble than it is worth.
27.5" Mongoose Ledge 2.1 Men's Bike, Deep Navy:21-speed twist shifters with Shimano rear derailleurAluminum full-suspension mountain frame with front suspension forkMongoose men's bike features front ...