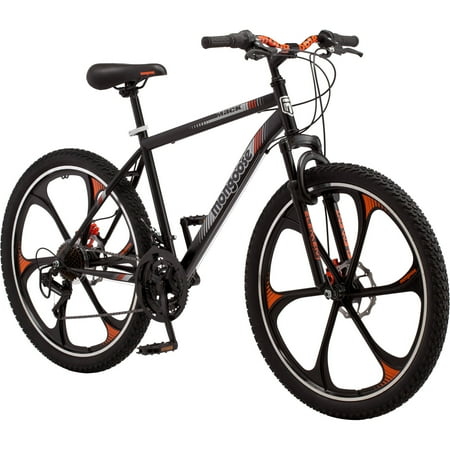 Take your ride to the next level with the 26″ Mongoose Mack mountain bike. This trail-ready bike will turn heads everywhere you go thanks to tough, aggressive mag wheels that are as strong as they are fun to look at. The Mack rocks a steel mountain-style frame and powerful front suspension fork, perfect for soaking up big bumps and owning rocky descents. Front and rear mechanical disc brakes ensure crisp all-condition stopping, while the durable steel 3-piece crank offers optimal gearing on tough rides. Light and strong alloy rims sit on those gnarly mag wheels for added durability when you ride. Hop on the Mongoose Mack and show your friends how to really rip. There's nothing you can't do on a Mongoose. 26″ Mens Mongoose Mack Mag Wheel Bike, Black and Orange:
Steel mountain-style frame with front suspension fork is ready for the trail
21-speed Shimano Revo twist shifters with a Shimano rear derailleur for quick and smooth gear changes
Front and rear mechanical disc brakes provide crisp all-condition stopping
Aggressive, machined aluminum mag wheels look sweet and ride hard
Light and strong alloy rims provide added durability for everyday riding
Durable steel 3-piece crank offers optimal gearing on tough rides
Tool-free adjustable seat post for easy height adjustments
Rider height: 5'2″ – 5'10"
reviews
I received this bike for free in exchange for writing an honest review. Overall this bike is perfect for a trail ride out here in New York as it features a front suspension which assists through all the unpredictable bumps you would find on a trail. I love the fact that tires are a bit wider and the rims are built to withstand any strong impact.
I found the bike to be very comfortable and provides a smooth ride. I received my bike for free as part of a free sample study and it was delivered with a broken rare break. The company delivered a new handle within 2 days. Overall I am very happy with the bike.
So far, so good! I bought it right off the rack at the local Walmart. It was fully assembled, so all I needed to do was ride it around the block and adjust the brakes. I really liked the mag wheels. I think it has a great look with those wheels. I'm thinking about converting it to a single-speed, but I'll ride it stock for a while to see how it holds up. The disc brake set up is a big plus over the caliper style most bikes this price have. If you're looking for a mountain bike under $300, I think this one is a great choice.
Light whieght the right hieght and comfortable ride
I liked everything about the bike except the most important thing. It could not brake well. The disk brakes were under-engineered . Not sufficient for this bike. Even after fully adjusting the brake levers, the bike was incapable of fully stopping either wheel on street rough surface. In the store it seemed to work on the demo on the smooth floor. I consider this bike unsafe… unless you competely replace the disk brake system. I returned the bike for a simple straight brake by another manufacturer.