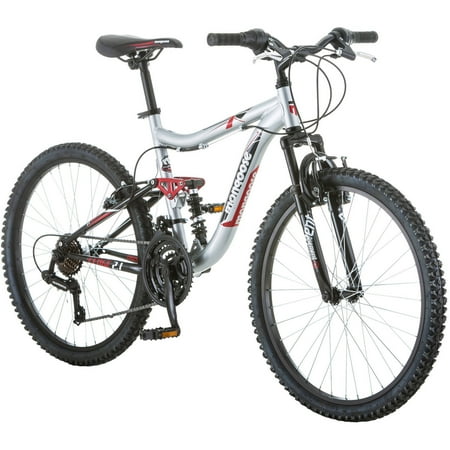 Kids can push it to the limit with this 24-inch Mongoose Ledge 2.1 Boys' Mountain Bike. This sleek yet rugged bike comes in silver and red for a fun and fierce color combination. The Mongoose mountain bike is lightweight and constructed from an aluminum suspension frame that features a suspension fork for a smooth ride and increased control. In addition, the bike features 21 different speeds to handle a variety of terrains, including up steep hills or just riding around the neighborhood. The shifter three-piece crank helps the bike transition smoothly from one gear to another. The silver/red mountain bike has a number of features, including a padded seat and linear pull brakes that provide strong braking power.
Please note: If you select Site to Store delivery, your bike(s) will not be assembled upon pickup.
24″ Mongoose Ledge 2.1 Boys' Mountain Bike, Silver/Red:
Aluminum full suspension frame and fork smoothes the bumps of a rough ride
21-speed twist shifters with Shimano rear derailleur for precise gear changes
Alloy linear pull brakes provide great stopping power
3-piece crank for a reliable gear support
Alloy rims are strong yet lightweight
Mountain style athletic seat
Suitable for riders 4'6″-5'5″
reviews
Easy to put together, although I put front wheel on backwards at first. My son got it for 10th birthday. He loves it, and rides it everyday. I wish I had this bike when I was a kid. It seems well built.
My son 9 Yrs loves the bike, he is just tall enough to ride it. Only reason it did not get 5 stars is the bike was very poorly put together. Check all the bolts etc. for safety before letting your child ride. I also had to adjust and tighten the brake cables to ensure it could stop correctly. (compare your purchase to the photo online as a few things were put on backwards).
We looked at this bike in the store and my grandson loved it he's 11 and wanted a new adventure. The bike is sturdy and well built. Great for exploring on our farm.
I ordered two of these bikes. They are great starter bikes with gears for kids. When I placed my order, there were color options of Silver and Silver/Red, and I ordered one of each; thinking: I have two kids and if there is a way to distinguish between the two bikes, then that would be good. When the order arrived, the Silver bike had a steel frame and the Silver/Red bike had an aluminum frame – and the boxes were different but that was inconsequential. My husband could tell from the welds on the frames that one was steel and the other aluminum, and the Silver/Red bike has a sticker on the frame (where the seat post is mounted) that says "aluminum." The pictures on the Walmart website are accurate. In the picture of the Silver/Red bike, you can see the aluminum sticker label on the frame. The picture of the Silver bike does not have that sticker. Now, the question is: Does it matter? I immediately thought the aluminum frame bike would be significantly lighter. But my husband reported that the weights of both bikes are almost the same. Frankly, if we ended up with two steel frame bikes, we would have never known the difference. But, my husband decided he liked the aluminum frame better for the kids. We exchanged the steel framed bike for another Silver/Red aluminum bike.
Got this bike for my son and he loves it!! Great bike for the price.
I bought this bike for my 10 year old. He is on the smaller side, but has been riding since he was 6. Assembly was super easy, just the brake adjustment took some finesse. Derailer seems to be adjusted out of the box. Two complaints are: 1. that I had to readjust the brake handle to go below the shifter on both sides of the handlebar. This was apparently set up wrong by whoever assembled it. 2. It is quite heavy, feels like 35 lbs. Overall, a good starter Mountain Bike that I hope to get a few years out of.
Great bike and great service. Assembled free of charge. You can't beat that!
I purchased this for me(adult female on the short side) to ride with my child and encourage him to give up training wheels. Within ten minutes, the rear tire bladder popped, wrapped around the rear gears and frame. I hoped the Mongoose name would have created a better product. I'm returning it tomorrow for a better product, hopefully.
24" Mongoose Ledge 2.1 Boys' Mountain Bike, Silver/Red: Aluminum full suspension frame and fork smoothes the bumps of a rough ride21-speed twist shifters with Shimano rear derailleur for precise gear ...