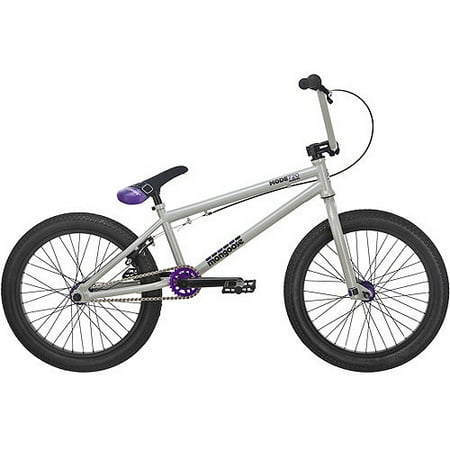 The Mode 720 is on pace with what tomorrow's pros are riding. Mongoose focused on the important features and eliminated anything you don't need when riding the streets, dirt or park. The Mode 720 includes an alloy rear U-brake that provides excellent stopping power, letting Mongoose delete the front brake. A three-piece tubular crank adds strength and cuts weight on the 25×9 micro gearing drive train with rear cassette.
20″ Mongoose Mode 720 Boys' Bike, Gray:
Frame: steel bicycle frame
Gearing (# of speeds): single speed 25×9 micro gearing
Brakes: rear aluminum U-brake and lever
Wheels/tires: 20″ tires
Rims: alloy rims and alloy 9T cassette rear hub and front hub
Handlebars: steel
Seat: ultra light seat and post combo
Pedals: standard pedals
Crank: 3-piece tubular crank
Assembly required
Dimensions: 56″L x 27″W x 38″H
reviews
This is a awesome bike even know the shipping took 8 days very light weight
I purchased the bike for my son's birthday , and he was blown away! Great value and a quality product !,
I had this bike for about 6 months, it was a great bike but I rarely ride it. The one time I get it out I was planning on going to my friend but the chain broke. DO NOT RECOMMEND
20" Mongoose Mode 100 Boys' Bike, Blue/Gray: Steel freestyle BMX frame4 wheel pegs for stunts and tricksAlloy 4-bolt stem with cable detanglerFront alloy caliper brake and rear U-brakeAssembled dimens...
The 20" Mongoose Bike will provide a sturdy and durable ride for your son, whether he is taking a casual trip or competing with his friends. 20" Mongoose Mode 720 Boys' Bike, Gray: Frame: steel bicycl...
The 20" freestyle bike is just what you need, whether you are performing bike stunts or simply want a good bike.20" Mongoose Mode 720 Boys' Freestyle Bike, Blue: Frame: steel bicycle frameGearing (# o...