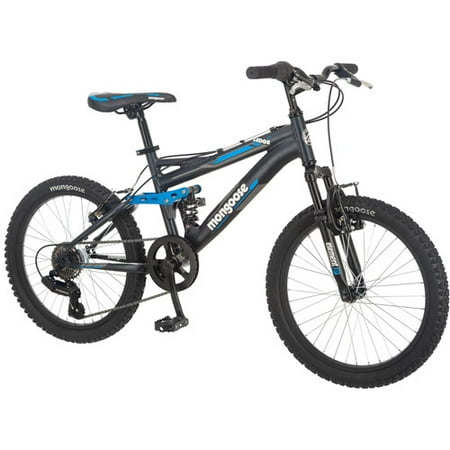 With help from the 20″ Mongoose Ledge 2.1 Boys' Mountain Bike your little one can conquer the mountain. It is created with a super durable, yet lightweight aluminum suspension frame that is designed to take a beating and will not weigh the rider down. He will also appreciate the built-in suspension fork that helps to smooth out bumps on rough terrain and increases control. Each Mongoose mountain bike is equipped with a 7-speed shifter that makes it easy to change gear resistance between flat areas, downhill and and steep uphill. With help from the Shimano rear derailleur gear shifting is quick and fluid, so he is always ready for what lies ahead.
20″ Mongoose Ledge 2.1 Boys' Mountain Bike:
Frame: aluminum suspension frame
Lightweight yet durable build is designed to provide lasting performance
Fork: suspension fork smoothes bumps and increases control
Gearing (# of speeds): 7 speeds
Derailleur: Shimano rear derailleur for precise shifting
Shifter: twist shifters change gears easily
Crank: 3-piece crank offers wide gear range
Brakes: linear pull brakes provide great braking power
Wheels/tires: 20″ wheels
Rims: alloy rims for lightweight durability
Handlebars: steel handlebars
Seat: padded seat for enhanced comfort
Pedals: standard pedals
Assembly required before use
20″ mountain bike
Dimensions: 51″L x 16.5″W x 35″H
reviews
Perfect for my 9 year old son. He loves everything about the bike from the look to having a kick-stand. I will say it is a little bit heavy but the plus side is he is not trying to pop wheelies with it. I wanted a mountain bike that he could take into beginner trails and the size is perfect for the next couple years. I did not want spend too much on a transition bike so the $124.97 price was perfect.
I'm pleased with this bike. It's a decent weight and good size for my 8 year old. All the components seem sturdy as well. Also easy to put together
Definetly a nice looking bike and great handling My 8 year old can go up hill with ease now!
Perfect size for my son. He loves it. Project handle stem want bet but my husband was able to work with it.
My 11 year old loves this bike. Came shipped in a few days after ordering. Putting together was fairly simple with the directions(I'm fairly mechanical). The only issue was with the derailer. It was hitting the spokes when shifted. I found that the mounting bracket was tipped in a little so I carefully bent it out a little. Problem solved. The small screw adjusting of the derailer took some time, but came out well.
The bike works well for my 9 year old son. Easy to assemble CONs- arived late, had some body scratches that were pretty noticable, and one of the gears is not working after only using it 3 times.
My son god this bike for Christmas, He was shifting the gears and the part you turn just broke we returned it and got a new one same thing happened again the gear broke
20" Mongoose Ledge 2.1 Boys' Mountain Bike: Frame: aluminum suspension frameFork: suspension fork smoothes bumps and increases controlGearing (# of speeds) : 7 speedsDerailleur: Shimano rear derailleu...
20" Mongoose Ledge 2.1 Boys' Mountain Bike, Orange/Blue: Aluminum full suspension frame and fork smoothes the bumps of a rough ride7-speed twist shifters with Shimano rear derailleurAlloy front and re...