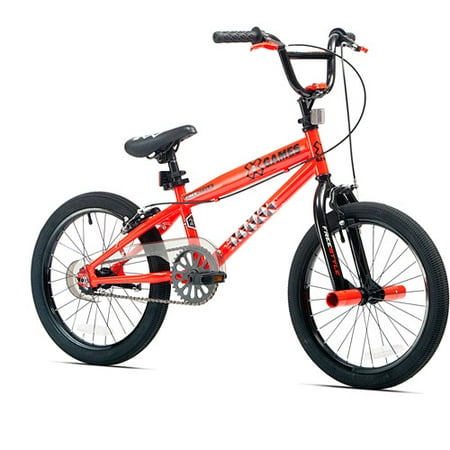 The 18-inch X-Games Bike is ideal for youth riders who enjoy bicycle motocross, freestyle or dirt jumping. It has a durable steel frame for long-term, heavy-duty use. The smaller size is just right for kids who are ready to confront adventurous dirt jumping or shredding at the skate park. Front pegs make this bike suitable for freestyle cycling and tricks such as wheelies. Typical of BMX styling, this bike features upright handlebars to optimize control and help the rider stay comfortable. The secure, four-bolt handlebar stem adds to the long-life potential of this steel frame bike. Bright wheels and X-Games decals give this bike a distinctive look that's ideal for extreme sports fans. Front and rear handbrakes allow for quick stops when necessary or smooth deceleration. The short crank lets riders accelerate quickly and allows for maximum control of velocity.
Please note: If you select Site to Store delivery, your bike(s) will not be assembled upon pickup.
18″ X-Games Boys' Bike:
Sturdy steel frame and fork
Front and rear handbrakes
Secure 4-bolt handlebar stem
BMX-style handlebar
Front pegs
reviews
It was easy to put together and our Grandson loved it. Very good quality and works great. Awesome to have it delivered to our door.
The right size for the smaller rider. Not much ridding in the Winter here. It looks to be holding up OK.
Bought this bike for Christmas for my almost 6 year old. Purchased online, received instant rebate from Shop at Home, did free in store pick up. It was quickly delivered to the store. Bike went together easily, no missing or bent parts. Fits kid perfectly and has room to grow. Great Bike!
Great Buy and the free ship to store was convenient
The bike came in great condition..no dents or broken pieces. Did not take long to assemble. My son who is 6 yr is happy with his new bike and so am I. Worth the money spent because I was looking for an 18 inch bike with no support wheels and a Kick stand and it has both features.
This bike is good. My son loves it without any complaints
My son was so excited for his bike to arrive. First we waited over 2 weeks for it to just ship and when it finally arrived, the front part was so bent that my husband couldn't put the front wheel on it. We even took it to a bike store to make sure. I was extremely disappointed but my son was the most since it was in his favorite color. The color didn't bother him but I would have it say it was a mixture of a bright orange/red instead of just orange. I needed up returning it and busying another bike.