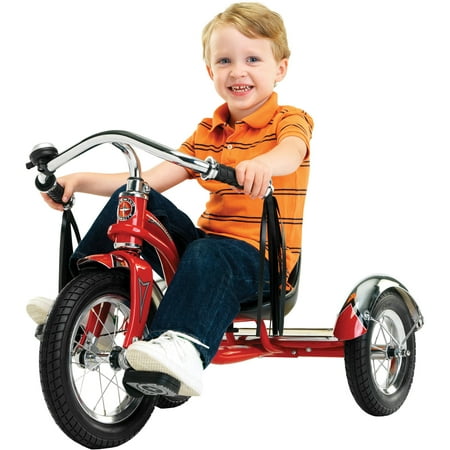 Make memories that will last a lifetime with the Schwinn 12 Roadster Trike Featuring a retro styled frame with a low center of gravity it s easy for little ones to climb on and off during play The tires roll smoothly and quickly while the mustache style cruiser handlebars chrome fenders and a bell add a nostalgic flair that Mom and Dad will appreciate as well
12″ Schwinn Roadster Trike, Red:
Retro-styled classic tricycle frame with low center of gravity
Air tires roll smooth and fast
Real wood deck with burned-in Schwinn logo
Roadster triple tube lowered stand-over frame and fork
Mustache-style cruiser bars with bell
Front wheel drive crankset with rubber inset pedals
Wheels: steel hook beaded 12″ front and 8″ rear
Chrome fenders
Color: red
reviews
Just received this trike. It's for our two year old's birthday. I was surprised how many tricycles were for ages 3 and up. This one is great because the adjustable seat will allow him to use it now and later as he grows. It's so shiny and beautiful and the quality seems legit. We will see how it holds up. One thing I wish it had is the brake feature when you back peddle. No brakes. So that is a concern.
Ordered the trike on line at Walmart.com two weeks ago for my grandson's birthday. He will be three. The bike was delivered to my house in a week's time. Took just 10 minutes to put together. Beautiful bike, sturdy, well designed. None of the problems reported by some of the earlier customers (dents, crooked decals). The bike came securely packed in the carton. Was originally going to get the classic Radio Flyer tricycle of old, but this Schwinn is way cooler and probably safer (less likely to tip over). Can't wait to give it to my grandson–he will go nuts with it!
My grandson loved this trike. I loved how easy it was to put together.
Easy to assemble, ordered online, delivered as expected. My grandson loves it. Should weather all 3 grandku
Overall, great little trike! Sturdy, solid construction, super easy to assemble. Disappointed one of the tassel were not ziptide and the stem caps were not included. Both easy fixes, our Granddaughter will get alot if enjoyment out of it!
The Walmart where I bought this bike (Pinhook in Lafayette, LA) so graciously put this together for me in 1 hour and no charge! My granddaughter will love it!!!
This was supposed to be my little grandsons Christmas present from Santa. We put the first trike together, thank goodness, before Christmas. The first trike we put together had a bent front wheel. We were able to get the next trike before Christmas, however when we put the second trike together it had a rear wheel that would not take air to fill it up. BOTH trikes had stickers for design that were put on by monkeys. The stickers were crooked with bubbles in them , not flat and put on with care. SO VERY VERY DISAPPOINTED. It was too late to get him one for Christmas.