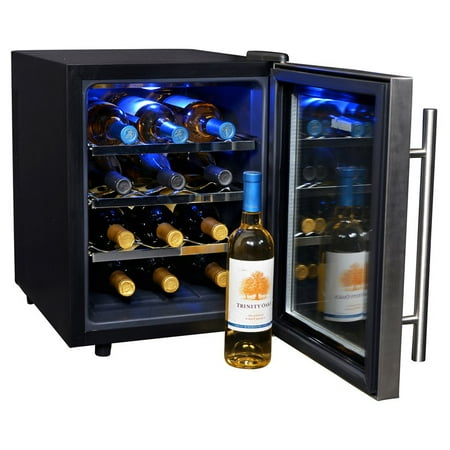 Organize and store your wine collection inside the Newair Wine Cooler (AW 121E). It displays up to a dozen wine bottles in style while storing them at the proper temperature to preserve ideal flavor. The unit also uses thermoelectric technology, so it operates quietly and without vibrations that can affect the taste of your wine. This 12-bottle wine refrigerator features conveniently-placed digital controls and LED display to monitor and control the interior temperature. The bottles sit on three chrome-plated shelves that are easy to slide out for quick retrieval and replacement of wine. Blue LED interior lighting illuminates your collection without changing the wine's quality and the see-through door lets you view bottles at all times. Stainless steel trim provides an elegant appearance that matches any kitchen or bar decor. With single zone cooling, this thermoelectric wine refrigerator operates efficiently.
reviews
Bought this for spouse for Christmas, she was ecstatic! Works great!
I was prepared to receive a relatively cheap looking wine refrigerator. I was hoping it would fit underneath the cabinets, but it was too tall. You can expect that to happen when you don't take measurements. It looks nice on the floor. This refrigerator not only met my expectations but exceeded them. After all, I'm not familiar with NewAir products. I HIGHLY recommend this quiet model.
I got the product for Christmas, as soon as I started putting it together I noticed the the threading on one of the screws was messed up, therefore I couldn't attach the handle. Before sending it back I emailed the address on the bottom of the manual and I quickly got a response from Vincent. He said that he could just send me another screw. Vincent was very professional and very helpful. I can't wait to use my cooler!
We love our NewAir Wine Cooler! The fit and finish are beautiful and the stainless steel exterior makes it very attractive and it's basically plug in and go. Couldn't be more simple and easy to use. The staff at NewAir are very friendly and helpful as well. I highly recommend them and their products.
I love this wine cooler. It is not too big and holds just enough wine. It fits on the counter or even on the floor. It doesn't get in the way. The stainless steel finish matches any room.
I love that the cooler is small enough to keep in the kitchen or dining room, but also large enough to hold enough bottles of wine for us. We are not huge wine drinkers so having a larger cooler would be a waste for us. I like that it has a light feature and that it isn't too bright, just bright enough to be used when you need it. The wine is easy to remove from all shelves, especially since you are able to pull out a few of the racks to ensure you are grabbing the correct bottle. Unless you are right next to the cooler you don't even realize that it is running, the noise level is that low.
I have already recommended this cooler to my friends! I bought this wine cooler on-line and I am totally satisfied. The reviews have all been favorable and various websites were out of stock. Would make an excellent gift for anyone!!