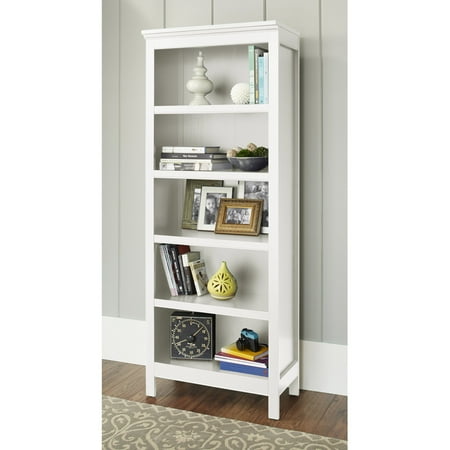 With its classic styling and sturdy frame, the 10 Spring Street Burlington Collection Five Shelf Bookcase is the ideal addition to your home. Three adjustable shelves allow for a variety of storage options, and the solid wood frame will provide the support needed to hold your essentials. This solid wood bookcase adds some stylish storage to your living room or home office, and it fits just about anywhere because of its compact size. It is excellent for books, ornaments, souvenirs, mementos or even a house plant. Choose from a white, walnut or black finish and allow this 10 Spring Street bookcase to blend in nicely with your home's overall decor. Mix and match with other items from the Burlington collection to create a whole look all your own. This 10 Spring Street Burlington Collection Five Shelf Bookcase will make your living space look elegant. 
10 Spring Street Burlington 5-Shelf Bookcase, Multiple Colors:
Sturdy solid wood frame
Three adjustable shelves, five shelves total
Dimensions: 28″W x 13.6″D x 72″H
10 Spring Street bookcase is available in white, walnut and black
Directions:
Fabric Care Instructions: Wipe Clean
reviews
bought this for my daughters room. its beautiful, heavy and sturdy. Although we did have to shim it in the front a little because it seemed top heavy and leaned forward slightly even with the wall anchor. My husband just took some wood about an inch thick. removed the 2 plastic nubs from the front and hammered on the new piece to be sure it wouldn't slide off. Better safe then sorry i guess.
looks substantial , doesnt look like pressed wood. nice presebtation, quick shipping , easy to asssemble. I give it a four, due to the price being slighty hign
Bought this shelf for a store display. Painted outside light turquoise and left interior white. Watch back when putting together, static made styrofoam dots go into back seam, have to remove before adding to back.
For the price, a great bookcase. I bought 2 for my daughter's room. They arrived in perfect condition and build was easy enough, back panel just requires a little careful positioning. They look great in the room.
I am currently a student, just moved to a new place and needed some furniture to organize all my books. This bookshelf was easy to assemble, with a great instruction manual. It has plenty of space to hold a ton of books, movies and other things you might think about putting on a bookshelf. Plus, the quality of the product is good (not like other bookshelves I have owned in the past). I am glad I bought it and consider this a good investment. Fully recommend buying it.
It came in a big box but the assembling process is surprisingly simple. All the boards are numbered and the instruction is easy to follow. The height for each floor of the shelf is adjustable based on the needs for space so I saved two floors for tall books. It gives me all I expect for a bookshelf and I would definitely recommend this for anyone who is looking for a bookshelf that is good looking and convenient to use.
This bookshelf is authentic and gorgeous. The instructions and assembly was user friendly. The wood is sturdy and high quality. I will definitely buy this brand again for my furniture.
I bought two of these bookcases. When I assembled the first one, I became concerned because the pieces, no matter what I did, would not fit together well. There is a "gap" between all the pieces. The "cams" would not tighten the pieces together, and they would often loosen the pieces or turning 360 degrees as if the cams were stripped. So the first one is not completely sturdy, but I threw away the box that it came in. The second one will be returned. Not only did the pieces have gaps, they would not stay together at all. The final product leaned to one side like the leaning tower of Pisa. In the process of taking it down, it fell completely apart. I called the company's customer service, but I have not heard from them. I will be returning it back to Walmart. Buy at your own risk.